About us
The Canvas
Welcome to Elements of Art Hair Gallery, your premier destination for exceptional hair care and a personalized salon experiences. Founded in 2012 in Decatur, our salon is dedicated to celebrating the artistry of hair while promoting a positive and creative atmosphere.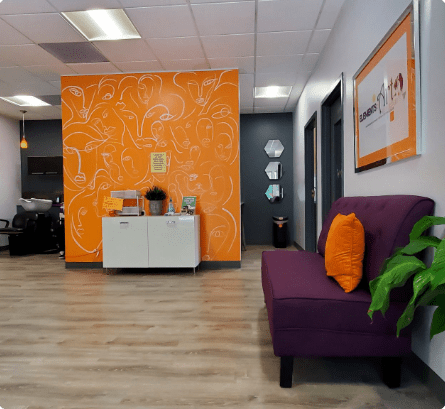 At Elements of Art Hair Gallery, we prioritize the health and condition of your hair. Our team of talented and diverse hair artists possess extensive knowledge and experience in creating unique styles, custom colors, and precision cuts for all hair types. We stay up-to-date with the latest trends and innovations in the industry to ensure that you receive the best possible care.
Step into our salon, and you'll be greeted by an inviting and inspiring environment. Our thoughtfully designed space stimulates your senses, allowing you to relax and indulge in a transformative experience. Our dedicated stylists take the time to understand your individual needs and aspirations, ensuring that each visit is tailored to you.
At Elements of Art Hair Gallery, we believe that getting your hair done should be more than just a service—it should be an experience that leaves you feeling renewed, confident, and excited. Join us on this artistic journey, where your hair becomes a canvas and our stylists create masterpieces… one head at a time.
About
Tasha Buckner
Tasha Buckner is the embodiment of passion for the hair and beauty industry, and her vision came to life through Elements of Art Hair Gallery. With over 20 years of experience as a licensed cosmetologist, Tasha has built an impressive portfolio that encompasses various aspects of hairstyling. Her expertise includes healthy hair care, precision cuts for all hair types, and innovative styling techniques. Tasha is committed to delivering excellent customer service and ensuring her clients have a remarkable salon experience. She believes in staying updated with the latest products and services, constantly seeking to enhance her skills and remain at the forefront of her field.
In her pursuit of knowledge and expertise, Tasha achieved the status of a WTS Certified Trichologist and Hair Loss Expert. This additional certification allows her to offer personalized services and solutions to clients facing hair loss and scalp miladies. Tasha's dedication to her craft is evident in her approach to each client. At Elements of Art Hair Gallery, she sees her workspace as a creative haven, where the chair becomes her easel, and each client is a blank canvas. With her artistic vision, Tasha transforms each canvas into a masterpiece, one head at a time.
By choosing Elements of Art Hair Gallery and entrusting your hair to Tasha Buckner, you can expect unparalleled skill, personalized attention, and a commitment to your satisfaction. Join us on this artistic journey, and let us create a masterpiece that reflects your unique style and beauty.